Opening for 2020 Season!
We are excited to announce that the course will be open to our members starting on Thursday, March 19th! While we are excited for the start of the golf season, we do ask that our members, guests, and staff follow these actions to ensure the safety of everyone at this time while we all continue to enjoy the game of golf:
Wash your hands frequently or use sanitizer after touching objects that are not your own
Practice social distancing of 6 feet or more around your playing partners and while at the club
Refrain from shaking hands and instead elbow bump or waive
Leave the flagstick in as much as possible and forgo using rakes in bunkers
Be mindful of your actions for those around you
For further information and safety guidelines, please visit the CDC website.
Thank you for your understanding and cooperation during this difficult time.
~ The Professional Golf Staff at Coyote Creek
3/16/20
New 2020 Toro Maintenance Fleet
We are excited to announce our new fleet of Toro equipment has arrived! These beautiful new items include two greens mowers, two fairway mowers, an approach/tees mower, and a groundsmaster to add striping to the surrounds by greens and tees! 11/11/19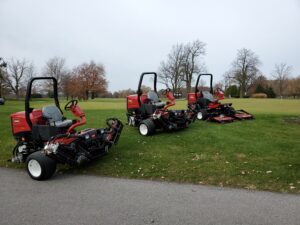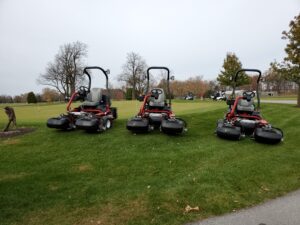 New 2020 Club Car Cart Fleet
We are excited to announce our new fleet of Club Car golf carts have arrived! These new carts feature larger bag wells for cart golf bags, four sand bottles, and magnetic rain covers!  10/31/19