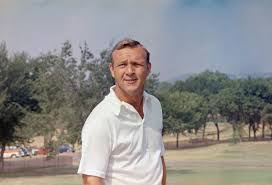 The Arnold Palmer Connection
Perhaps the most popular golfer of all time, Arnold Palmer earned his first official tour money at Coyote Creek Golf Club on May 29, 1955. This is truly a heritage Coyote Creek is very proud of. After finishing his fourth round at the Fort Wayne Invitational, Palmer pocketed $145 for finishing T-25. It was the first official PGA Tour payday Palmer was allowed to keep, having served the long-since abandoned, six-month probation against earning money in tour events after turning pro.
The $145 from Fort Wayne was the start of Palmer's launch into making golf in general -- and the tour specifically -- financially lucrative. His star power helped the tour grow in popularity, which in turn increased prize money substantially. He was the first to make $100,000 in a season, first to $1 million in career earnings, and the first to make advertising marketability an art form.
The huge tour purses he helped grow came much after Palmer was capable of winning on tour, but the money he was able to keep at the Fort Wayne Invitational 64 years ago must have felt like a fortune at the time, little did he know the fortune he would soon earn.
Three years after his Fort Wayne Invitational placing, Palmer won the Master's in 1958.
The Fort Wayne Open (1950-1956)
The Fort Wayne Open, which played for one year as Fort Wayne Invitational, was a golf tournament on the PGA Tour in the 1950s. It was played at Orchard Ridge Country Club in 1950 before moving to the Fort Wayne Elks Lodge No. 155 golf course, now Coyote Creek Golf Club.
Past Champions of the Fort Wayne Open include:
1950: Lloyd Mangrum
1940 & 1949 Masters (2nd)
1946 U.S. Open Champion
1950 U.S. Open (2nd)
1953 U.S. Open & Masters (3rd)
1951: Jim Ferrier
1947 PGA Champion
1950 Masters (2nd)
1952 Masters (3rd)
1960 PGA Championship (2nd)
1952: Jimmy Clark
T-5th at 1953 PGA Championship
1953 & 1956: Art Wall Jr
1954: Doug Ford
1955 PGA Champion
1957 Masters Champion
1958 Masters (2nd)
1955: Dow Finsterwald Jr
1957 PGA Championship (2nd)
1958 PGA Champion
1960 Masters & U.S. Open (3rd)
1962 Masters (3rd)
1963 PGA Championship (3rd)
Fort Wayne Open Champion at Bay Hill
You never know who you are going to run into! During a January 2017 visit to Bay Hill Golf Club, in Orlando, Coyote Creek Golf Club's PGA Director of Golf, Bill Blumenherst, ran into Dow Finsterwald.
Beside's winning the 1955 Fort Wayne Open, Dow had a very successful golf career, winning 11 PGA events between 1955-1963.